Michael van Gerwen hopes to build on a good year of progress when he plays in next week's PartyPoker.com World Grand Prix in Dublin.
The young Dutch sensation, who burst onto the professional scene by winning the 2006 Winmau World Masters when he was just 17, has managed to find some consistency in his game in 2012.
'Mighty Mike' has won three ProTour titles this year and, after hitting a nine-darter en route to the quarter-finals of the World Matchplay in July, he is pleased to be finally taking his floor form onto the big stage.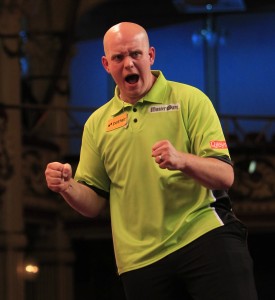 "I'm playing very well at the moment," said the 23-year-old, who was knocked out of last month's European Championships by compatriot Raymond van Barneveld in a thrilling match.
"I'm feeling very confident because I'm having a good year. I had a good couple of floor tournaments in Barnsley recently and I played well against Raymond in Germany.
"I lost 10-9 but I played really well in what was a great game.
"My TV form is getting better. It's all to do with confidence. If your confidence is good then you play well. Mine is good and I'm playing well.
"I know that I can do even better but I need to do it step by step."
van Gerwen faces 2004 winner Colin Lloyd in the opening round of the World Grand Prix on Tuesday, and the Dutchman is expecting a tough start to the tournament.
He said: "You never know with Colin. He's a great player, who has won a lot more than I have but it doesn't matter who I play really.
"There are so many good players. Everyone in the tournament is capable of winning it but you have to concentrate and play your best game from the first dart to the last, which is very hard.
"I need to play my own game and I know that, if I play well, I can beat Colin and then go on to do very well in this tournament."
The £350,000 tournament, which takes place at Dublin's Citywest Hotel from Monday 8 October, is unique for its double-start format, where players have to begin and end each leg with a double.
van Gerwen, who is currently ranked 25th in the PDC Order of Merit, believes that concentration could be the key to success.
He added: "I think it is the most difficult tournament of the year. The double-in, double-out rules mean that you must keep your concentration in every leg and every throw.
"It will be difficult but I hope to reach the quarter-finals again and then we will see how it goes from there.
"With a good run here and at the rest of the TV tournaments this year, there is a chance of me reaching the top 16, which is a big target of mine."
By Chris Murphy
***SPECIAL OFFER – Silver tickets for The Untouchables, Eastbourne on Friday 19 October are TWO FOR THE PRICE OF ONE – Click here for more details***
Image courtesy of Lawrence Lustig/PDC