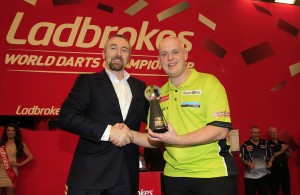 The 2014 Ladbrokes World Darts Championship gets underway on Friday evening as 72 players prepare to do battle for the biggest prize in the sport.
Last year's runner-up Michael van Gerwen is widely considered to be a major contender to be lifting the Sid Waddell Trophy on New Year's Day, while James Wade and Simon Whitlock are also hoping to pocket the record £250,000 first prize.
World number two van Gerwen lost out twelve months ago as Phil Taylor clinched his 16th World Championship crown, but has since defeated 'The Power' in the finals of both the Premier League and Players Championship.
The Dutchman will return to the Alexandra Palace stage on Tuesday, when he will face the winner of the preliminary round match between Ben Ward and Zoran Lerchbacher.
"I'm really excited and very confident," said van Gerwen, the second seed.
"I'll need to prepare well and I can't underestimate whoever I play in the first round.
"Winning the Players Championship Finals was great for my confidence. It shows everyone that I can still win tournaments and they need to watch out for me in the World Championship."
Australia's top player Whitlock is also in action on Tuesday 17. 'The Wizard' is up against Ross Smith, while van Gerwen's compatriot Vincent van der Voort will kick off his campaign against Matt Clark.
Wade will have to wait until the final day of first round action and will take on Darren Webster on Thursday 19 December.
'The Machine' has reached the semi-finals for the last two years running and believes he is in good shape to go all the way this time.
"I'm feeling positive," said Wade, winner of seven PDC majors.
"My mind is in the right place, my personal life is in the right place and my darts are feeling much better.
"I've been practicing hard so let's hope it all pays off as I would love nothing more than to win the World Championship.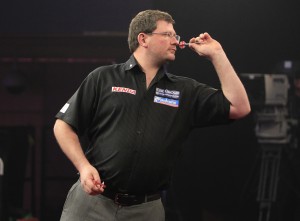 "I've been unlucky over the years but that's the game of darts. There can only be one winner."
Mark Webster will also play his first round tie on Thursday, when he meets Austria's Mensur Suljovic.
Before then, recent Grand Slam of Darts runner-up Robert Thornton will begin his quest for a second major title on Saturday evening. The 2012 UK Open Champion takes on German teenager Max Hopp.
Paul Nicholson, a former Ally Pally quarter-finalist, also plays on Saturday Night. 'The Asset' is up against former World Masters finalist Stuart Kellett.
Sunday sees five-time World Champion Raymond van Barneveld join the action. The Dutchman, who reached the last four last year, plays Welsh World Championship debutant Jamie Lewis, while Scotland's John Henderson takes on World Grand Prix finalist Dave Chisnall.
Former World Under-21 Champion Arron Monk meets world number 11 Justin Pipe on Wednesday 18 December.
The second round begins on Friday December 20 and concludes the following Friday after three-day break for Christmas.
The last 16 will then compete in round three, which also begins on Friday 27 December, before the first two quarter-finals are played on the evening of Saturday December 28.
The two remaining quarter-finals will be held 24 hours later, with the semi-finals being played on Monday December 30 and the final taking place on New Year's Day.
By Chris Murphy
DON'T MISS A DART
Match reports, news and updates will be posted here and on the players' official websites throughout the 2014 World Darts Championship.
Follow us on twitter @modusdarts180
Facebook: MODUS Darts
Audioboo: MODUSdarts180
Visit our online shop www.dartshop.tv for exclusive event tickets and official player merchandise.
Official player websites: www.michaelvangerwen.tv www.simonwhitlock.tv www.jameswade.tv www.robertthornton.co.uk www.barneyuk.tv www.paulnicholson.tv www.markwebster.tv www.vvdvoort.tv
SCHEDULE OF PLAY
First Round
Friday December 13 (7pm)
John Part v Mareno Michels
Rob Szabo v Ian Moss (P)
Peter Wright v Joe Cullen
Phil Taylor v Szabo/Moss
Richie Burnett v Dean Winstanley
Saturday December 14
Afternoon Session (12pm)
Mark Walsh v Jarkko Komula
Colin McGarry v Per Laursen (P)
Wayne Jones v Kevin McDine
Terry Jenkins v McGarry/Laursen
Ian White v Kyle Anderson
Evening Session (7pm)
Julio Barbero v Andree Welge (P)
Robert Thornton v Max Hopp
Gary Anderson v Mark Dudbridge
Andy Hamilton v Barbero/Welge
Paul Nicholson v Stuart Kellett
* Order of first two games changed at request of Sky Sports, whose first hour's coverage is interactive via Red Button
Sunday December 15 (7pm)
Dave Chisnall v John Henderson
Dennis Lindskjold v Colin Osborne (P)
Raymond van Barneveld v Jamie Lewis
Brendan Dolan v Lindskjold/Osborne
Jamie Caven v Jelle Klaasen
* Colin Osborne replaces Edward Santos, who withdrew on December 8 due to travel problems.
Monday December 16 (7pm)
Ronnie Baxter v Ricky Evans
Devon Petersen v Mohammed Latif Sapup (P)
Kim Huybrechts v Ronny Huybrechts
Steve Beaton v Petersen/Sapup
Mervyn King v Darin Young
Tuesday December 17 (7pm)
Colin Lloyd v Beau Anderson
Zoran Lerchbacher v Ben Ward (P)
Vincent van der Voort v Matt Clark
Michael van Gerwen v Lerchbacher/Ward
Simon Whitlock v Ross Smith
Wednesday December 18 (7pm)
Andy Smith v Steve Brown
Morihiro Hashimoto v Paul Lim (P)
Justin Pipe v Arron Monk
Michael Smith v Hashimoto/Lim
Adrian Lewis v Dennis Smith
Thursday December 19 (7pm)
Mark Webster v Mensur Suljovic
Gino Vos v Royden Lam (P)
James Wade v Darren Webster
Wes Newton v Vos/Lam
Kevin Painter v Tomas Seyler
Second Round
Friday December 20 (7pm)
Wright/Cullen v Jenkins/McGarry/Laursen
van Barneveld/J Lewis v Caven/Klaasen
Taylor/Szabo/Moss v M Smith/Hashimoto/Lim
Saturday December 21 (7pm)
Hamilton/Barbero/Welge v Burnett/Winstanley
Thornton/Hopp v Lloyd/B Anderson
K Huybrechts/R Huybrechts v White/K Anderson
Sunday December 22
Afternoon Session (12.30pm)
Dolan/Lindskjold/Osborne v G Anderson/Dudbridge
Painter/Seyler v Nicholson/Kellett
Whitlock/R Smith v Walsh/Komula
Evening Session (7pm)
Newton/Vos/Lam v Part/Michels
Chisnall/Henderson v M Webster/Suljovic
van Gerwen/Lerchbacher/Ward v W Jones/McDine
Monday December 23 (7pm)
Wade/D Webster v A Smith/Brown
King/Young v Baxter/Evans
A Lewis/D Smith v van der Voort/Clark
Friday December 27
Afternoon Session (12.30pm)
Pipe/Monk v Beaton/Petersen/Sapup
Third Round
Newton/Vos/Lam/Part/Michels v Thornton/Hopp/Lloyd/B Anderson
Hamilton/Barbero/Welge/Burnett/Winstanley v K Huybrechts/R Huybrechts/White/K Anderson
Evening Session (7pm)
Whitlock/R Smith/Walsh/Komula v Painter/Seyler/Nicholson/Kellett
Taylor Szabo/Moss/M Smith/Hashimoto/Lim v Wright/Cullen/Jenkins/McGarry/Laursen
Chisnall/Henderson/M Webster/Suljovic v van Barneveld/J Lewis/Caven/Klaasen
Saturday December 28
Afternoon Session (12.30pm)
A Lewis/D Smith/van der Voort/Clark v King/Young/Baxter/Evans
Wade/D Webster/A Smith/Brown v Pipe/Monk/Beaton/Petersen/Sapup
van Gerwen/Lerchbacher/Ward/Jones/McDine v Dolan/Lindskjold/Osborne/G Anderson/Dudbridge
Evening Session (7pm)
2x Quarter-Finals
Sunday December 29 (7pm)
2x Quarter-Finals
Monday December 30 (7pm)
Semi-Finals
Wednesday January 1 (8pm)
Final
FORMAT
Preliminary Round – Best of seven legs
First Round – Best of five sets
Second Round – Best of seven sets
Third Round – Best of seven sets
Quarter-Finals – Best of nine sets
Semi-Finals – Best of 11 sets
Final – Best of 13 sets
All sets are the best of five legs. For all matches using the Sets format, there will be a tie-break in the deciding set only, where the final set must be won by two clear legs until the score in that set reaches 5-5, when a sudden-death leg would be played.
PRIZE FUND
Winner – £250,000
Runner-Up – £100,000
Semi-Finalists – £50,000
Quarter-Finalist – £25,000
Third Round Losers – £15,000
Second Round Losers – £10,000
First Round Losers – £6,000
Preliminary Round Losers – £3,500
Total – £1,050,000