JAMES HUBBARD will celebrate his 20th birthday by making his Betfair World Matchplay debut on Tuesday night – but opponent Wes Newton is determined that a celebratory cake is the only present he receives from their clash in Blackpool.
World Youth Champion Hubbard will continue his remarkable rise when he steps onto the Winter Gardens stage – having competed in an amateur tournament in Blackpool last summer.
Having turned professional in November, the 19-year-old has soared to stardom and recently qualified to play in the £400,000 World Matchplay.
"It's a dream for me to be playing in this event," said Hubbard. "Winning the World Youth Championship was special but I wasn't a professional when I qualified for the final, so this is the biggest stepping stone of my career.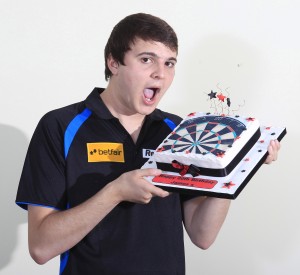 "This time last year I was here playing in an amateur tournament, and now I'll be on stage in the second-biggest event in darts.
"It would be very special to win but there's no pressure on me either because I never expected to qualify for this.
"To beat the world number five on television in his own backyard would be a great achievement, and I'll be giving it my best shot on Tuesday."
Former UK Open finalist Newton was a quarter-finalist in last year's World Matchplay, and enters their clash as the heavy favourite.
However, the number five seed is taking nothing for granted, and admits: "I've known James since he was a cheeky kid and it's great to see him in the World Matchplay.
"He used to play in youth tournaments around PDC events so I've seen him grow up, and for him to have qualified shows how far he's come in such a short space of time.
"He's got a birthday cake but I don't want to be giving him any more presents on stage on Tuesday night! I'm there to do a job and I'm looking forward to the game – to be in the second round is the main aim."
Story and images courtesy of PDC