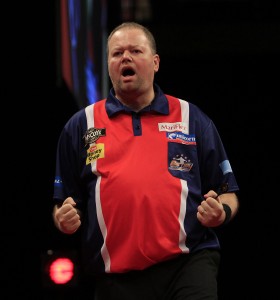 Raymond van Barneveld will reignite his rivalry with world number one Phil Taylor in Glasgow, where James Wade and Michael and van Gerwen will meet on Thursday evening.
'Barney' will meet the 'The Power' for the first time since their high profile World Championship semi-final clash at Alexandra Palace.
But the Dutchman, who is one of two players already safe from the threat of relegation, says the pair have left that affair in the past.
"We've solved what happened at the World Championship and we're still friends," van Barneveld told www.pdc.tv
"We'll forget all about that game this week and I have to because it's a big game.
"In all these years in the Premier League I've never beaten him and only got one draw, so it would be a dream to beat him. I know I can do it but I'll have to lift my game from last week when I drew with James Wade.
"This is a shorter format than the World Championship, the best of 12 legs, so I know I have to start well. I didn't play my game in the first four or five sets the last time we played and I'm not sure why.
"Perhaps it was because he is Phil Taylor, but I played so many great matches in the World Championship up to that point and against him I didn't turn up.
"When I did turn up I was 5-1 down and it was a tough battle because from that far behind against Phil Taylor you're never going to beat him."
Wade will do battle with the other player who can't be relegated in van Gerwen – in another repeat of the World Championship semi-finals.
Simon Whitlock and Robert Thornton will both be looking to add to their points tally and move closer to safety when they go head to head, with 'The Thorn' enjoying home advantage.
Gary Anderson meets Wes Newton while Adrian Lewis and Andy Hamilton do battle in the evening's other matches.
The ten Premier League players will then become eight when they head to Brighton for the final week of action before relegation in what is being billed as 'Judgement Night'.
By Chris Murphy
Image courtesy of Lawrence Lustig/PDC