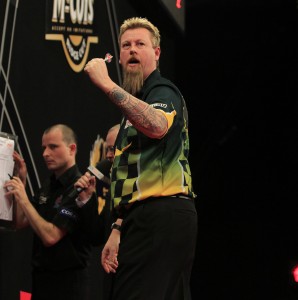 Simon Whitlock faces a 'Judgement Night' showdown in Brighton as he and three other players battle to avoid being the first ever casualties of the new relegation format of the McCoy's Premier League, which will see two players eliminated on Thursday night.
Whitlock, who has six points from the first eight weeks of action, faces Michael van Gerwen at the Brighton centre in the knowledge that victory will ensure his safety from the dreaded drop.
However, van Gerwen will prove a tough opponent as one of the players in a four way tie at the top of the table in the tightest ever staging of the tournament in it's nine year history.
"I know it will be tough," admitted Australian ace Whitlock.
"But every game has been tough for all of us. That is why it is so close.
"Whoever stays up will then have a great chance of going on to reach the play-offs.
"The good thing for me is that is in my own hands and I believe in myself. Hopefully, I have saved my best performance for when it really matters."
Whitlock may avoid relegation before he faces 'Mighty Mike' if other results go his way.
James Wade takes on Gary Anderson and victory for 'The Machine' paired with defeat for Wes Newton against Andy Hamilton would see 'The Wizard' reach safety.
Wade, who is also on ten points after seeing off van Gerwen in Glasgow last week, is hoping continue his good form against 2011 winner Anderson, who is currently in the relegation zone.
"I want to keep playing well and winning games to reach the play-offs," said 2009 champion Wade.
"It won't be a nice thing to beat someone and relegate them but while it may be new in the Premier League it's nothing new in darts.
"In most tournaments if you win, the other player goes out so I will just have that attitude against Gary."
Raymond van Barneveld, another of the joint leaders, takes on Adrian Lewis and a victory for the Dutch legend would leave 'Jackpot' in danger of elimination and awaiting other results.
Robert Thornton takes on Phil Taylor in the only match that won't affect the relegation battle.
The Scotsman reached safety with victory over Whitlock last week and is in a relaxed mood ahead of his tie against the world number one.
"Bring on Mr Taylor," said Thornton, who defeated the 16-time World Champion twice on TV last year – including in the final of the UK Open.
"I know I can beat him and he knows he can beat me so it is all about how we perform on the night.
"I'm just glad to not be scrapping for survival and I can just concentrate on a game of darts."
By Chris Murphy
Image courtesy of Lawrence Lustig/PDC
| | | | | | | |
| --- | --- | --- | --- | --- | --- | --- |
| | P | W | D | L | +/- | Pts |
| Phil Taylor | 8 | 4 | 2 | 2 | +12 | 10 |
| Michael van Gerwen | 8 | 4 | 2 | 2 | +12 | 10 |
| James Wade | 8 | 4 | 2 | 2 | +9 | 10 |
| Raymond van Barneveld | 8 | 4 | 2 | 2 | +6 | 10 |
| Robert Thornton | 8 | 3 | 3 | 2 | +5 | 9 |
| Andy Hamilton | 8 | 4 | 0 | 4 | 0 | 8 |
| Adrian Lewis | 8 | 3 | 1 | 4 | -7 | 7 |
| Simon Whitlock | 8 | 3 | 0 | 5 | -11 | 6 |
| Wes Newton | 8 | 2 | 1 | 5 | -12 | 5 |
| Gary Anderson | 8 | 2 | 1 | 5 | -14 | 5 |