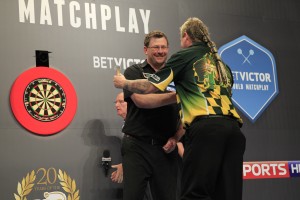 James Wade and Simon Whitlock both claimed dramatic deciding leg victories in round one of of the World Grand Prix in Dublin, where Paul Nicholson produced one of the top performances of the opening night.
Two-time champion Wade and Australian star Whitlock were both taken to last-leg deciders by Steve Beaton and Michael Mansell respectively, with both surviving missed match-darts by their opponents before winning through to the second round.
Nicholson produced what he went on to describe as his 'best ever performance on TV' to defeat Robert Thornton, as 'The Asset' averaged just under 100 in a 2-1 sucess.
Wade will face Connie Finnan on Wednesday as he continues his pursuit of a third World Grand Prix title.
Whitlock will take on Ronnie Baxter and Nicholson is up against world number one Phil Taylor.
Full match reports are availble to read on the players' official websites via the links below:
Simon Whitlock 2-1 Michael Mansell
Paul Nicholson 2-1 Robert Thornton
By Chris Murphy
The World's top Darts stars could be in action near you! Click an event poster for ticket information.