Robert Thorn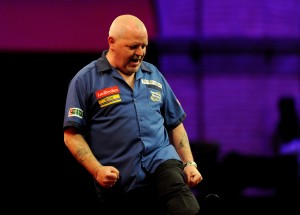 ton and Paul Nicholson both progressed to round two of the World Championships on a day that saw two nine-darters at Alexandra Palace.
Thornton defeated Max Hopp and Nicholson saw off Stuart Kellett on Saturday evening, following an afternoon session which included the two perfect legs.
Terry Jenkins and Australia's Kyle Anderson currently share possession of the £30,000 prize-pot after both achieved their first televised nine-dart-finishes, but the pair were eliminated from the tournament nonetheless.
Robert Thornton 3 – 1 Max Hopp – Match report
Paul Nicholson 3 – 0 Stuart Kellett – Match report
By Chris Murphy
DON'T MISS A DART
Match reports, news and updates will be posted here and on the players' official websites throughout the 2014 World Darts Championship.
Follow us on twitter @modusdarts180
Facebook: MODUS Darts
Audioboo: MODUSdarts180
Visit our online shop www.dartshop.tv for exclusive event tickets and official player merchandise.
Official player websites: www.michaelvangerwen.tv www.simonwhitlock.tv www.jameswade.tv www.robertthornton.co.uk www.barneyuk.tv www.paulnicholson.tv www.markwebster.tv www.vvdvoort.tv