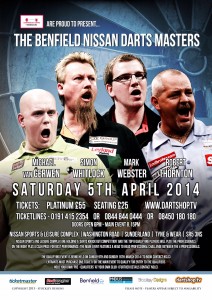 Four of the biggest names in professional darts will be on show in Sunderland in 2014 as the Benfield Nissan Darts Masters returns for its second staging.
The stars, including the newly-crowned World Champion and world number one Michael van Gerwen, will compete at the Nissan Sports and Leisure complex on Saturday 5 April.
Dutch sensation van Gerwen will be joined by Australian ace and former European Champion Simon Whitlock, former World Champion Mark Webster of Wales and Scotland's Robert Thornton, the former World Master and UK Open winner.
They will battle it out, alongside local qualifiers, in the type of thrilling tournament as seen on TV as high quality darts heads back to Sunderland.
"I'm looking forward to fantastic night," said van Gerwen, who has also won the World Grand Prix, Players Championship and Premier League.
"I remember playing Premier League in Newcastle last season and it was a great crowd. They enjoy their darts and I hope that will be the same Sunderland.
"It's a really strong line-up too and we will all be out to get one over on each other.
"It all makes for a great tournament and top evening."
Tickets for this exciting event are available online at www.dartshop.tv or by calling 08450 180 180.
Local players who want to attempt to qualify for this event should contact Nissan Sports and Leisure Complex, where the qualifying event is being held on Sunday 9 and 16 March 2014.